Pickering Manor Fundraising Events
Pickering Manor holds fundraising events throughout the year to raise money for building improvements and residents' care. Support the cause through your gift of attendance, general donation/matching gift, or sponsorship on behalf of you or your business. Below is a list of our special events. For more information, click on the links or call our Development Department at (215) 968-3878 Ext. 1112.
Newtown Rotary Golf Outing
GOLF SCHEDULE
Early Start – Scramble Format
8:30 a.m. Registration & Full Breakfast
10:00 a.m. Shotgun Start
2:00 p.m. Cocktails, Lunch & Silent Auction
3:00 p.m. Awards
The Pickering Manor Car Raffle Drawing takes place in April and the tickets go on sale in November. The winner can choose from one of four car models from Peruzzi Motor Group or $25,000 in cash. Only 800 chances will be sold! The 2nd place prize is a $1,000 Visa gift card. Please note: you do not need to be present to win! See below for 2022 past advertisement and winners!
The WINNER of the 2021-2022 9th Annual Pickering Manor was…
First Place: Pat Carver of Yardley Borough, PA won the choice of $25,000 or a new car!
Second Place: Michael Giardinelli of Robbinsville, NJ won the $1,000 gift card! 
A sincere thank you to all our donors! We hope to see you next year!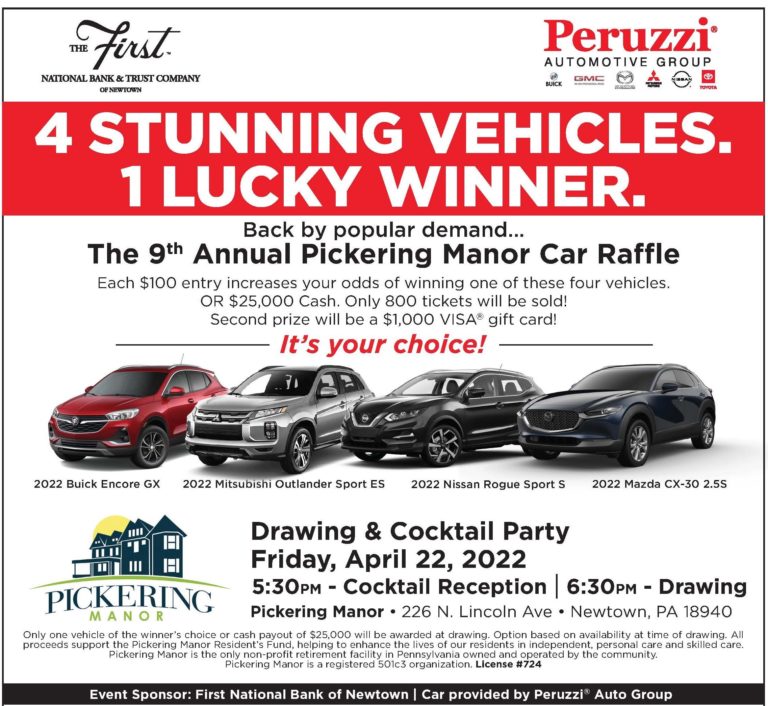 Sign up for our Newsletter